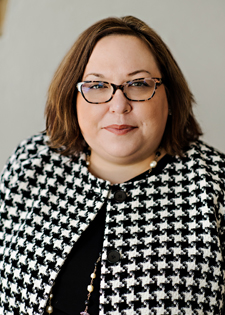 Angela I. Salvatore BA, JD, LLM (Taxation)
Barrister, Solicitor, and Notary Public
Angela's practice focuses on all aspects of tax dispute resolution, commencing at the audit stage with the Canada Revenue Agency, right to the appeals' stage at the Tax Court of Canada (and beyond, to the Federal Court of Appeal).
Her attraction to taxation law commenced in law school, as a Research Assistant for a taxation law professor. She excelled in the Master of Law (Taxation) full-time program at Osgoode Hall Law School, York University. Angela continued to take taxation law courses post-LLM in a desire to complete all taxation law courses offered, which she has now accomplished. Combining her academic writing during the advanced degree and afterward, she has written 16 academic final papers in varied areas of taxation law. Since September 2015, she has attended over 100 continuing professional development programs in the area of taxation law.
Angela has worked at two law firms, which practice exclusively in taxation law, in Kitchener and Toronto; the former firm dealing with income tax, commodity tax, Canada Pension Plan, and Employment Insurance matters and the latter firm dealing with commodity tax and customs' matters.
Prior to her career in taxation law, Angela spent nearly 7 years in civil litigation, and domestic family law and child protection. During this time, she worked at two law firms in the Niagara Region, operated her own practice in domestic family law and child protection, and worked as in-house legal counsel at the Children's Aid Society of the Niagara Region. She brings to Rogerson Law Group extensive litigation experience.
Among other memberships, she is currently the Vice-Chair of the Taxation Law Section of the (Canadian) Ontario Bar Association and the first woman to hold this position. This will be her fourth year on the Executive Committee. As well, she is a member of the Canadian Tax Foundation Young Practitioners Steering Committee. Angela is also currently enrolled in the CPA Canada In-Depth Tax Program.
Angela was born and raised in Niagara Falls, attended Brock University for her undergraduate degree, and continues to have strong ties to the Niagara Region. While lawyers are usually considered to be quite linear and right-brained, Angela has a creative side, too. She's currently learning to paint in watercolour and also has an affinity for languages, having studied French, Italian, and Spanish.
Awards:
Brock University In-Course Scholarship for achieving highest mark in any course offered by Sociology Department in 1999 – 2000 academic year (2000)
Book Prize of the Consulate General of Italy, Toronto c/o Brock University for highest mark in any language course offered in 1998 -1999 academic year (1999)
Brock University Entrance Scholarship (renewed annually)
Private Full Academic Scholarship for maintaining 85% average in each year of her undergraduate studies (renewed annually), comprising $28,000.00 in total
Memberships:
Canadian Italian Advocates' Organization
Canadian Italian Business Professionals' Association
Canadian (Ontario) Bar Association – Taxation Law Section and Commodity Tax, Customs, and Trade Section
Canadian Tax Foundation, including Young Practitioners' Group
International Fiscal Association Canada, including Young IFA Network
Legal Education and Action Fund Inc.
The Advocates' Society
Women's Law Association of Ontario
Courses:
Annual Course on Written Advocacy (Osgoode Professional Development, York University), 2016
Intensive Trial Advocacy Workshop (Osgoode Professional Development, York University), 2016
Tax Law for Lawyers Conference (Canadian Bar Association), 2016
Education:
Bachelor of Arts, with Distinction (Brock University), 2002
Juris Doctor (Osgoode Hall Law School, York University), 2006
Master of Law (Taxation) (Osgoode Hall Law School, York University), 2017