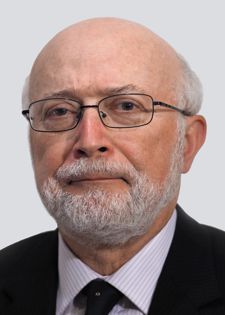 Peter Spiro's work as counsel for the Rogerson Law Group focusses on tax litigation, estate planning, and private school litigation.
His understanding of finance and investment analysis as well as the law, gives him a unique perspective to assist clients involved in complex tax disputes and estate planning issues.  Prior to becoming a lawyer, he worked for more than 20 years in senior economic policy and finance positions with the Ontario Government, helping to design tax legislation and undertaking investment return analysis for infrastructure and pension planning.
He has published many articles in leading professional journals, both in law and economics.  His analysis has made him one of Canada's most cited experts on the problems of tax evasion and the underground economy.
Education
Osgoode Hall Law School, JD
University of Chicago, MA, Economics (completed courses and comprehensive exams for PhD)
University of Toronto, BA and MA in Economics
Canadian Tax Foundation's Douglas J. Sherbaniuk Distinguished Writing Award  (2015, co-winner with J.R. Kesselman)
Academic Prizes at Osgoode Hall Law School:
Stringer LLP Award for Labour and Employment Law;
Howard S. Black Prize in Estates;
Fogler Rubinoff LLP Prize in Debtor/Creditor Law;
Martin J. Rochwerg Prize in Tax, Estates and Trusts Law;
Women's Law Association of Ontario Prize in Estate Planning.
"Serving as an Estate Trustee Can be Very Expensive" https://www.canliiconnects.org/en/commentaries/71489
"The Coronavirus Pandemic and Frustration of Contracts," 2020. https://canliiconnects.org/en/commentaries/70518
"Fraudulent Conveyance and the Real Property Limitations Act," 2020.  https://canliiconnects.org/en/commentaries/70332
"Reverse-Piercing of the Corporate Veil in Canada",  Canadian Business Law Journal, 2019.  http://ssrn.com/abstract=3223136
"Tax Exemptions for Investment Income:  Boon or Bane?"  2017.    https://munkschool.utoronto.ca/mowatcentre/tax-exemptions-for-investment-income/
"Judgment Creditors, Resulting Trusts and the Matrimonial Home,"  Canadian Family Law Quarterly, 2016.  https://papers.ssrn.com/sol3/papers.cfm?abstract_id=3546959
"The Common Law Treatment of Lost Wills," Estates, Trusts and Pensions Journal, 2016.  https://papers.ssrn.com/sol3/papers.cfm?abstract_id=3060494
"Canadian Mortgage Law and Prepayment Penalties," Western Journal of Legal Studies, 2015. http://ir.lib.uwo.ca/uwojls/vol5/iss4/4/
"Class Actions in Employment Related Disputes," Canadian Class Action Review, 2015. http://papers.ssrn.com/abstract=2523754
"Class Actions Claiming Implicit Contracts for Retirement Benefits," Canadian Labour and Employment Law Journal, 2015.   http://papers.ssrn.com/abstract=2399197
"Challenges in Shifting Canadian Taxation Toward Consumption," (co-authored with J.R. Kesselman).  Canadian Tax Journal (2014) 62:1, 1 – 39.
"Problems of Interpreting Statutes of Limitations in Cases of Continuing Breach of Contract," Canadian Business Law Journal, 2013.   http://papers.ssrn.com/abstract=2263024
"Tax Policy and the Underground Economy," in Size, Causes and Consequences of the Underground Economy, Christopher Bajada and Friedrich Schneider, eds., Ashgate Publishing, 2005.  https://papers.ssrn.com/sol3/papers.cfm?abstract_id=2270006
"Evidence of a Post-GST Increase in the Underground Economy."  Canadian Tax Journal, 1993. https://papers.ssrn.com/sol3/papers.cfm?abstract_id=2279999
"The impact of interest rate changes on stock price volatility," The Journal of Portfolio Management, 1990. https://doi.org/10.3905/jpm.1990.409252