July 8, 2020 – Rogerson Law Group is pleased that a very valued and highly regarded member of its team, Angela I. Salvatore, has assumed the position of Chair of the Ontario Bar Association's Taxation Law Section. Angela is the first female Chair of the Taxation Law Section and this will be her fifth year serving on the Section Executive. The appointment began on July 1 and will last for one-year. It was announced recently at the Section's Annual General Meeting and Awards' Presentation.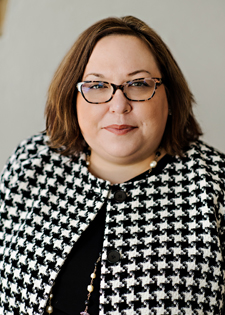 "I am honoured to hold this position, especially as I am the first woman to do so," said Angela. "I'm proud of the amazing work we've done over the past four years and I'm looking forward to continuing to work with our excellent team on planning more programs and working towards my goal of building a closer connection with our industry colleagues at the Canadian Tax Foundation, International Fiscal Association (Canada), Chartered Professional Accountant (CPA) Canada, and the Society of Trust and Estate Practitioners. My hope is that our Section can work with accountants, trustees, and other practitioners to collaborate on events with networking opportunities, with the end goal of enhancing the services we offer to taxpayers."
Prior to being named Chair, Angela served as Vice-Chair and has used her knowledge and experience to help organize and plan numerous professional development programs for the Section.
"Over the past few months, OBA members have benefited from the knowledge and resourcefulness of our leadership team and our 40 sections to continue practicing effectively within a rapidly evolving justice sector," said Ontario Bar Association President, Colin Stevenson. "Our members have risen to these many challenges, and I'm excited to see what our new Section Executives can do to continue to improve the legal profession, practice areas and the justice system."
"We are intensely proud of Angela. She is extremely passionate about her vocation and this shows in the extremely high-quality work she has undertaken with clients and the dedication she has to the profession, in general, and to the OBA and broader legal and non-legal tax community, in particular, all of which coincides with her principles of fairness and justice for taxpayers," says Andrew Rogerson, Principal of RLG.
Read Press Release on Law Times