Probate Lawyers & Estate Administration Toronto, Barrie & GTA – With Cross-Border Experience
Dealing with the estate of a loved one who has died can be very difficult, overwhelming and emotionally draining. The probate lawyers at Rogerson Law Group provide a personal and sympathetic service to clients whose loved ones have died and who need expert legal assistance with probate or estate administration.
Probate and Estate Administration
When someone dies, all their property and assets must be 'collected in' and distributed under the terms of the deceased's will. In the absence of a valid will, the estate will be distributed under the statutory rules of intestacy which set out a strict hierarchy of who gets what – starting with the closest living relatives.
Our services include:
Checking the will (if there is one) or determining who could be appointed executor/s
Advising executors and estate trustees on their duties and responsibilities
Calling in all the assets
Dealing with creditors and discharging debts of the estate
Distributing the balance to the beneficiaries
Preparing and distributing estate accounts, guardianship accounts and attorney accounts
Our experienced estate administration & probate lawyers provide a personable, efficient service to clients who are invariably grieving for their loved ones. We strive to ease the administrative and legal burden on them as far as is practicably possible.
Toronto Probate Lawyers with Cross Border experience
We frequently administer estates with complex multi-jurisdictional and cross border issues. We have years of experience dealing with estates where assets are held abroad, and where family members are living abroad. We are also experienced in acting in the administration of estates where the estate trustees and beneficiaries are in other jurisdictions.
What happens where there's a will?
The Will names who is to administer the winding up of the estate. There may be one or more appointed in the Will. These are the executors (also known as estate trustees) and they will apply to court for a Certificate of Appointment as Estate Trustee with a will (formerly known as 'Letters Probate').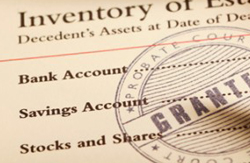 When the court is satisfied the will is valid, it will issue a signed certificate.  This confirms the authority of the estate trustee to administer the will. The estate trustee is fully accountable to the court, including complying with a court audit and supervision.
What happens where there is no will?
Someone (usually the surviving spouse in the first instance) must be appointed by the court to manage the estate. If there is no spouse (or the spouse is unwilling or unable to do so), a relative can apply (although note that only residents of Ontario may do so). If there are no relatives, another eligible person may apply to court (for instance, a friend of the deceased, a lawyer, or the Public Guardian and Trustee).
The applicant applies to court for a Certificate of Appointment of Estate Trustee without a Will.  The Certificate gives the estate trustee authority to manage and distribute the estate in accordance with the intestacy rules.
We also prepare Powers of Attorney and Wills
The Team
Our team is led by Andrew Rogerson, a lawyer with more than 30 years of experience in estate planning and asset protection, and Joseph Gyverson, who engages on a daily basis in complex estate administration. Our team is supported by expert litigator Rob Rastorp who has years of experience in dispute wills and estate litigation.
How can our Toronto Probate Lawyers help?
The probate and estate administration lawyers at Rogerson Law Group provide a dedicated personal and sympathetic service to clients whose loved ones have died and need support and help with the probate or estate administration. Our services also include wills drafting and wealth protection advice.
Contact us now for tailored, strategic probate and administration advice. Our probate lawyers can help you with your probate and administration needs in the entire GTA including Toronto, Scarborough, Mississauga, Vaughan, Brampton, Richmond Hill, Etobicoke, Barrie and other areas with offices located in downtown Toronto, Barrie, and associated offices in Ottawa.
Representative work:
Multiple estates – foreign jurisdictionsJoseph Gyverson has acted on behalf of multiple estates in the administration of estates where the trustee and deceased were in foreign jurisdictions, including Singapore, Norway, and the United Kingdom, and assets were located in Ontario. This included assisting the estate trustees to obtain Certificates of Appointment of Estate Trustee in Ontario; and working with banks to liquidate assets and transfer them to the estate accounts overseas.
Representing Australian Public TrusteeJoseph has also acted for the Public Trustee from an Australian jurisdiction in the administration of an estate and directed counsel in other Canadian jurisdictions regarding the liquidation and transfer of assets abroad; and
Acts as the Ontario nominee of foreign estate trustees, where the estate trustee is resident in countries outside the Commonwealth, facilitating the transfer of estate assets out of Ontario.
Successful claim against intestate estate
Andrew Rogerson represented a teenage female client in her successful claim against the estate of her paternal grandmother who died intestate – despite the fact she had never met her, nor had she ever been acknowledged by her father. We were required to prove the paternity to the satisfaction of the Ontario courts to establish her claim.
Our client lived with her two sons in the United States in a poor financial situation.  Her mother had a brief relationship her German born father who never accepted paternity, until a DNA test proved positive. He neither acknowledged her existence, nor provided her with maintenance, despite his personal wealth.
Our client's father was later killed in a mob hit and shortly afterwards his own mother also died. She had moved to Ontario and lived a life of affluence, having married a wealthy man, but she outlived her husband and never knew our client.
We obtained an order of the Ontario Superior Court waiving the requirements of an insurance bond for our client to act as executrix. We wound up the estate, established a trust for her and her young children and were able to set them up in a large house in the south of the United States with horses and stables.
We also provided funding to set up a small business to provide employment for our client; and were able to pay the legal fees required to secure our client's sole custody of her two boys given that their respective fathers refused to cooperate.
Contact Probate Lawyers at Rogerson Law Group at (416) 504 2259 for any domestic or cross-border estate issue.