Andrew Rogerson, founder of Rogerson Law Group, has again been recognized as one of Canada's Top Private Wealth Lawyers by Chambers and Partners, a prestigious international legal ranking publication. The guide covers private wealth management work and related specialisms in key jurisdictions around the world, featuring the most informative and important editorial about the leading professional advisers to wealthy individuals and families in each market.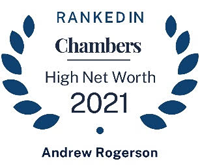 "It is an honor to be ranked by Chambers and Partners, which is among the most esteemed legal ranking publications in the world, and to be recognized alongside such impressive lawyers in the Private Wealth Law practice," says Andrew Rogerson, Principal at Rogerson Law Group. "This recognition is reflective of the entire team at Rogerson Law and our focus on providing excellent counsel and service to our clients."
Andrew was assessed and ranked by Chambers and Partners for his outstanding qualities in technical legal ability, professional conduct, client service, commercial astuteness, diligence, and commitment. In addition, the reference guide conducted interviews with past clients and assessed his recent work.
Andrew "goes the extra mile and is always happy to help and to jump on calls at short notice," says one Chambers commentator; "there are no delays with Andrew, he turns advice around quickly." He is also considered a "go-to for any Canadian cross-border planning" by a fiduciary professional, who recommends him "for multinational individuals particularly, or any matter with a global angle."
This ranking recognizes Andrew's position as a leading authority in Canada on Private Client, asset protection structures and trust litigation as well as his wealth of cross border experience and expertise, having practiced in offshore tax havens and in London, UK. Andrew has over four decades of experience in practice and has won many awards over the years as a leader in the field of asset protection, including being named one of the Best 500 Lawyers in the World by Intercontinental Finance & Law Magazine. He is also a Full Member of the Society of Trust and Estate Practitioners (STEP).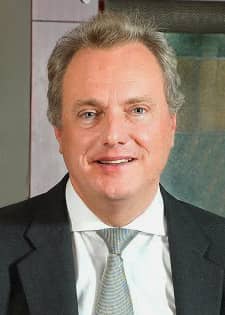 In 2006, Andrew formed Rogerson Law Group, a niche law firm that specializes in Asset Protection and Estates Law. The law firm was awarded the 2020 Best Asset Protection Law Firm by Global Excellence Awards recognizing their expertise and work.
The firm is also engaged in a number of pro-bono activities, including a Victims of Private School Bullying practice, which it launched with two significant and high-profile cases filed against Havergal College – a prominent all-girls private school in Toronto. Andrew is deeply committed to fighting bullying in all forms, and urges other members of the legal profession to do the same.
For more information, view the Chambers and Partner's website.